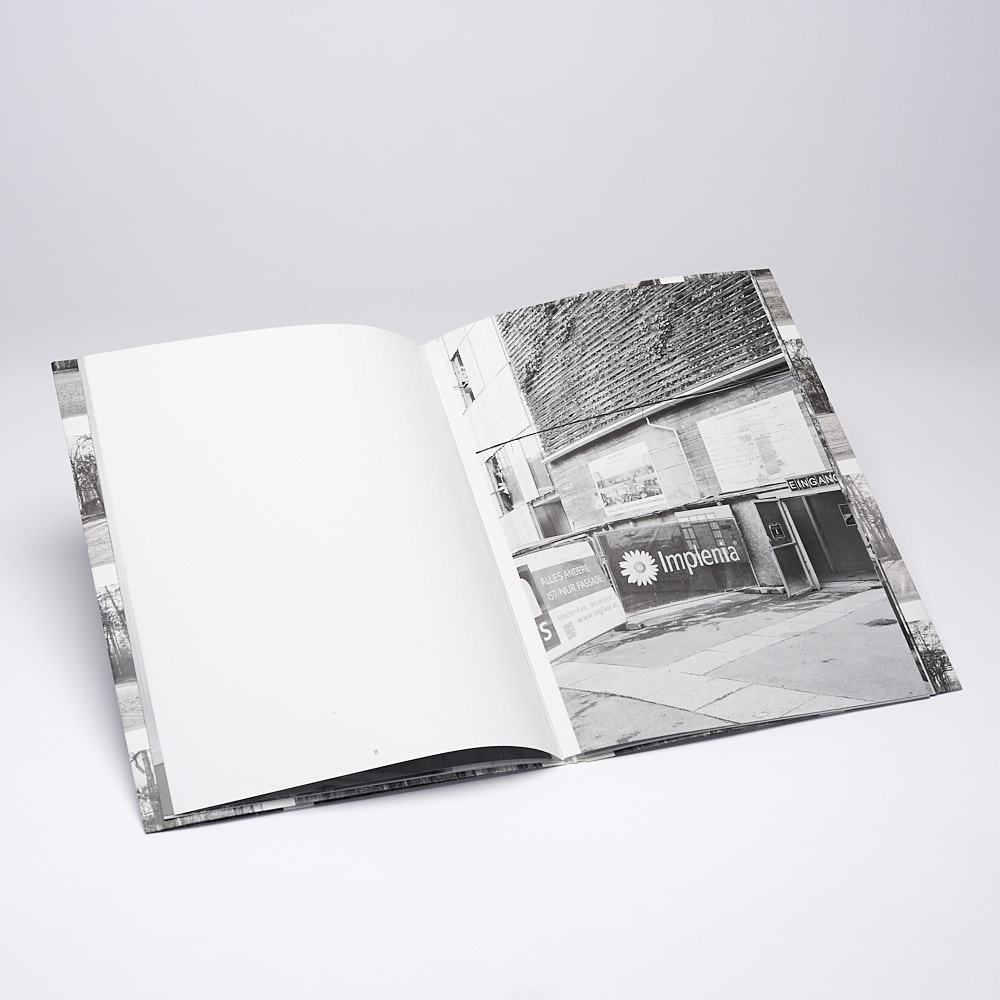 display
[September, 2020]
magazine
20x28cm; 24 pages,
lose binding; cover: folded A1 Poster
Edition: 27

Longlist 20/21 /Studentisches Projekt
27,- € inkl. MwSt/VAT + shipping in GER
Bestellungen/order: mail@franziska-schroedinger.de
[english below]
In der Arbeit
display
(2017-2020) wird die große Frage nach der Beziehung von Mensch und Natur bzw. Pflanze wird an dem Spezialfall 'Vertikale Begrünung' gestellt. Der Trend zur Pflanzwand florierte in den letzten Jahren besonders an repräsentativen Orten wie Foyers und Fassaden von Firmen, Hotels und Praxen. Diese Entwicklung begründet das Interesse an der grünen Wand und der umgebenden Architektur. Es handelt sich um Anzeigen der
Greeness –
automatisch-bewässert und beleuchtete Pflanzen-Rechtecke, die zwischen Luftbefeuchtung und
green washing
changieren. In der Wandinstallation treten die Fotografien in Korrespondenz zu Blickachsen in das gepflegte Grün aus einer anderen Zeit.
---
In the work
display
(2017-2020), the big question of the relationship between human and nature is posed in the special case of verticalgreening'. The trend towards plant walls has flourished in recent years, specially in representative locations such as foyers, facadesof companies, hotels and dental practices. This development is thereason for the underlying interest in the green wall and the surrounding architecture. These walls are displays of Greenness - automatically watered and illuminated plant rectangles. Their perception variesbetween air humidification and green washing. In the wall installation, the photographs correspond to lines of sightin the cultivated greenery from another time. Formal gardens from the 17th and 18th century bring together similar ideas of exclusivity, Zeitgeist and framing of nature.
Events:
Super Books
Haus der Kunst, München
[12./13.11.21]
Wanderausstellung
Der Deutsche Fotobuchpreis 20|21 wird präsentiert:


Regierungspräsidium Karlsruhe
16.07-27. 08.21
Hongkong Book Fair
14.-20.07.21
Forum für Fotografie Köln
25.09- 10.10.2021
Frankfurter Buchmesse
20.-24.10.21
Goethe Institut Hongkong
2. 12.21-15.01.22
Musashino Art University Tokyo
16.-31.05.22
Installationsansicht (01/20), Galerie 52, Essen
Inkjet-Prints auf Affichenpapier [25cm × 37,5cm & 12cm × 18cm]